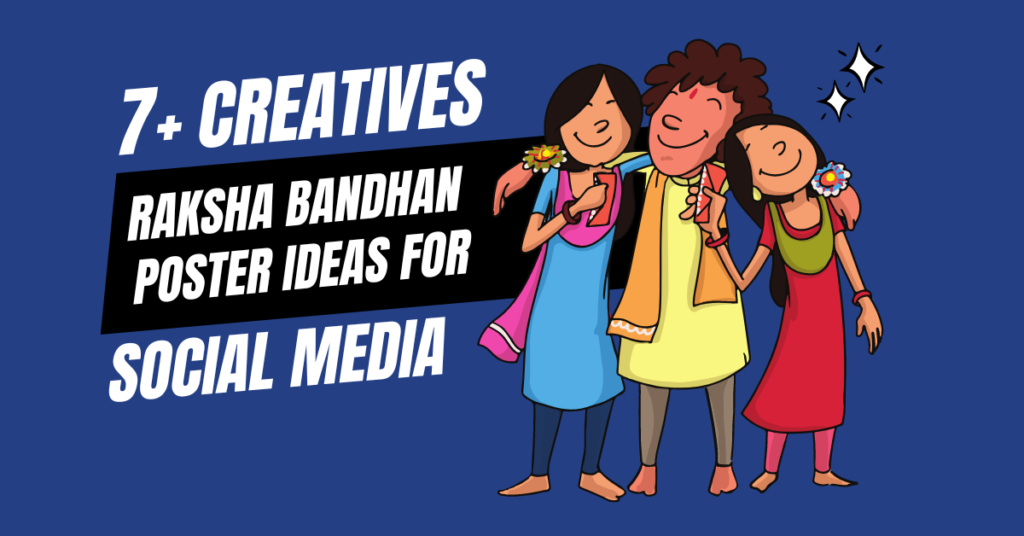 Raksha Bandhan not just celebrates the everlasting bond siblings share among themselves but also rekindles the lamps of love, joy and togetherness within us. It is the day when families come together to engage in the festivities that go beyond delicious food jubilant conversations and exchange of gifts. This is when marketing is at its peak to make up for the rising demand in the market. Most companies post creative Raksha Bandhan posters on social media platforms that make us go down memory lane to relish the warm moments we share with our siblings and loved ones.
So, it is that time of the year when you influence and inspire people with innovative, rib-tickling, exciting or moving Raksha Bandhan posters that bring a smile to their faces. Here are some heart-touching Raksha Bandhan social media post ideas that will help you engage with people sweetly and lovingly. This year, Raksha Bandhan falls on August 30.
Before we ideate Raksha Bandhan posters, Social media Campaigns for Raksha Bandhan or Raksha Bandhan social media post ideas let's delve into the background of this amazing festival. It is one of the most popular Hindu festivals the world over, as it transverses the boundaries that divide us, uniting and interweaving us into an unbreakable thread of affection/ endearment.
Why do we celebrate Raksha Bandhan?
The origin of Raksha Bandhan can be traced back to various mythological stories. One popular legend is that of Lord Krishna and Draupadi. According to the legend, when Draupadi tore a piece of cloth to bandage Krishna's bleeding finger, he was touched by her gesture and promised to protect her in return. Thus, the festival became a symbol of mutual love, trust, and protection between siblings.
Raksha Bandhan also carries historical significance. During the medieval era, queens and noblewomen tied rakhi on the wrists of kings and warriors, seeking their protection in times of war. The festival served as a reminder of the bond between them and fostered a sense of unity and courage among the warriors.
How can your Social media Campaigns for Raksha Bandhan stand out?
By apprising ourselves of the origin and background of the festival, we become adept at creating the perfect post that touches people's lives and hearts. The core of marketing resides in influencing people to choose your service, product or idea. This is often driven by original, interactive, ingenious and aspirational content creation.
On this festive occasion, most companies try to bring out attractive Raksha Bandhan poster designs to engage with the customers. By observing multiple social media posts, we can understand that the majority of Raksha Bandhan's social media posts by brands try to create something funny, appeals to the audience or helps them connect to their culture or roots.
Here are some of the ways that can help you create innovative social media campaigns for Raksha Bandhan:
· Creative Visuals: Use eye-catching graphics, images, and videos that reflect the spirit of Raksha Bandhan. Incorporate vibrant colours, traditional elements, and emotional visuals that resonate with your audience.
· Personalized Content: Craft personalized messages that evoke emotions and connect with the audience on a deeper level. Share heartwarming stories, memories, and experiences related to Raksha Bandhan, emphasizing the bond between siblings.
· Engaging Hashtags and Challenges: Create unique hashtags and challenges that encourage user participation. Encourage users to share their Raksha Bandhan celebrations, stories, or creative rakhi designs. Offer rewards or incentives to increase engagement.
· Influencer Collaborations: Collaborate with popular influencers or content creators who align with your brand and target audience. They can create compelling content, share their personal experiences, or promote your campaign, increasing its reach and credibility.
· Social Causes: Incorporate a social cause or charity initiative into your campaign. Encourage people to celebrate Raksha Bandhan by supporting a noble cause or donating to organizations that empower and protect children or siblings in need.
· Interactive Contests and Giveaways: Organize contests, quizzes, or giveaways that require user participation. This helps generate excitement, encourages sharing, and boosts engagement on social media platforms.
· Reels: These short videos are ruling the social media space as they are short and can easily catch the viewers' attention instantly. Most brands are using reels to promote themselves as part of their social media Campaigns for Raksha Bandhan.
If you are looking for some innovative Raksha Bandhan social media post ideas, here's what we have found for you-
What do Raksha Bandhan posters of top brands look like?
To simplify your task, we have shortlisted some truly heartwarming and creative Raksha Bandhan posters, Raksha Bandhan poster designs and social media campaigns for Raksha Bandhan that have been trending on various social media websites:
1. OYO
They have used a funny and catchy way to celebrate the festival with the description-"The only day when all behens become wasooli bhais. #HappyRakhi"
They have used an adorable and hilarious comic to portray the love siblings share with the
description- "being a sibling is a full-time job"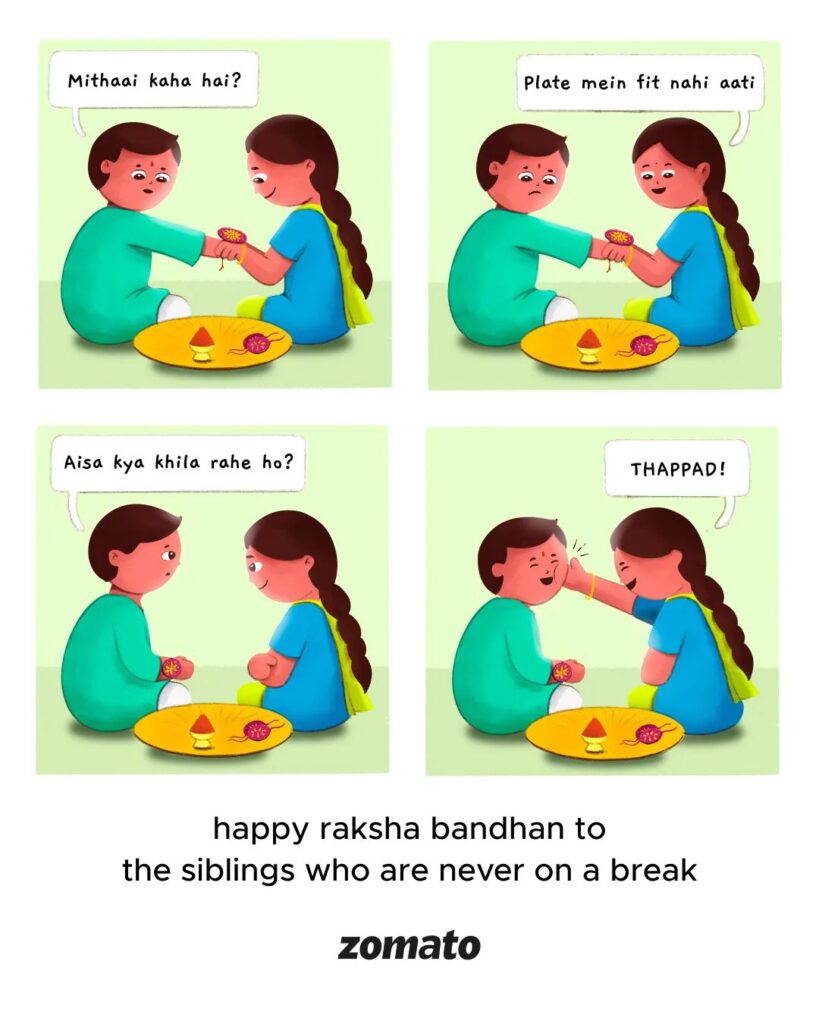 3. MODERN FOODS
Their reel depicts the conversation all siblings have when it comes to sharing tasty food.
Description- "For all the big bites he took, it's the perfect time to ask for a big gift in return! Tag your brother and let him know what you want. #HappyRakshabandhan"
4. PAYTM
In an animated reel, Paytm shows how a brother transfers her sister's Raksha Bandhan money electronically and brings joy to her face.
5. SWIGGY
In this graphic, Swiggy makes a Rakhi using different sweets and savouries.
Description- "Sweet and savoury rakhi just like your relationship with your siblings. send this to them "
6. MANISH CREATIONS
In this Pinterest post, they mention- "This Raksha Bandhan let's fight for the TV remote till eternity." Which is a very creative and funny way to capture a user's attention.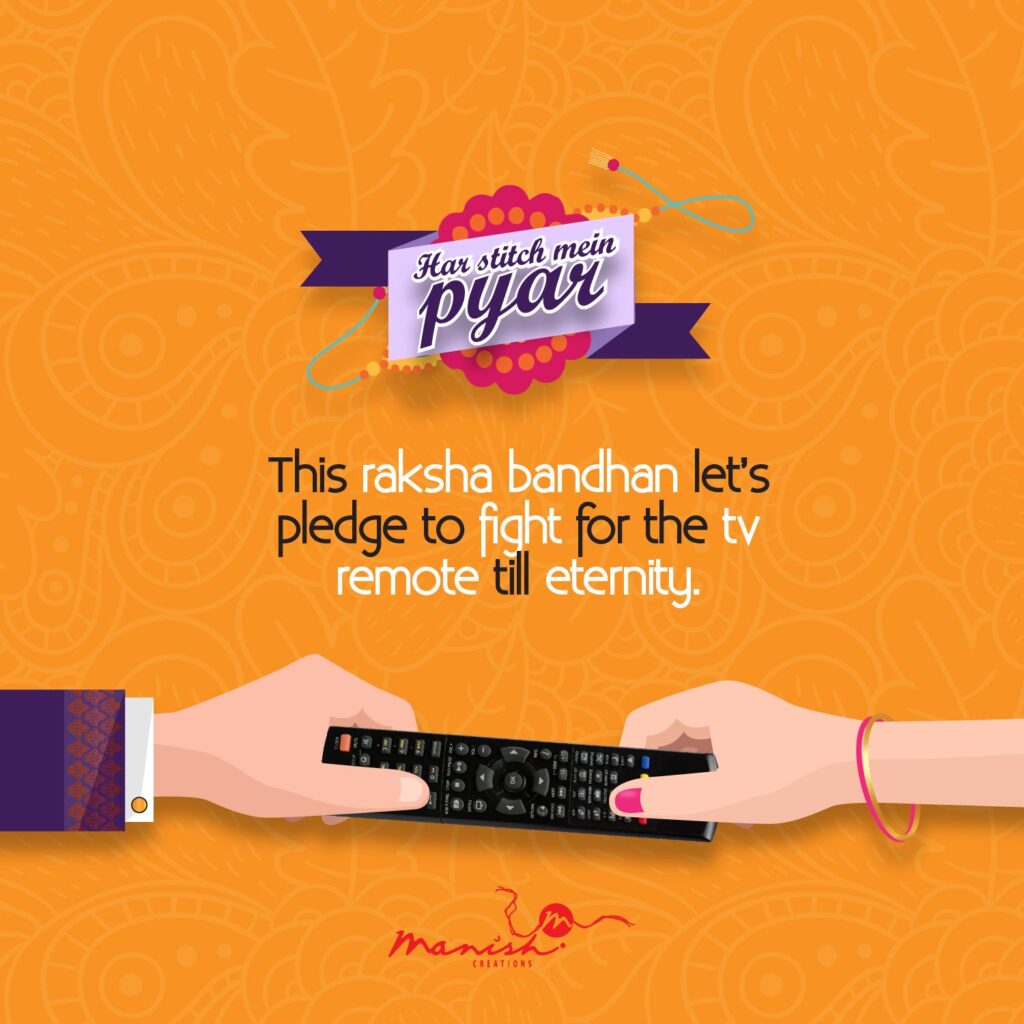 7. EARTH ROOT SPICES
In a graphic poster, different spices have been arranged in the shape of a Rakhi which looks very earthy and aesthetic.
Description- "May prosperity and happiness find their way to you on this festival of Rakshabandhan Happy Raksha Bandhan..!"
8. Amul
With the famous Amul girl tying a Rakhi to her brother it has a catchy tagline of "Maska Bandhan"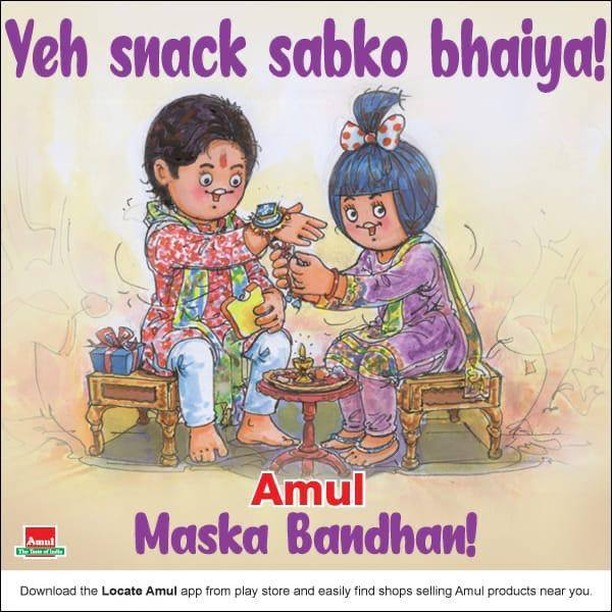 In this post, two beverage cups are shown connected by a small thread depicting love and commitment to the relationship.
Description- "The greatest gift you could give your sibling this Raksha Bandhan is YOUR TIME. Treat them at Starbucks and we will treat you to a surprise. #RakhiAtStarbucks #YourTime"
These Raksha Bandhan social media post ideas will inspire you to create amazing Raksha Bandhan posters that are sure to trend and make the impact you seek. Every year this festival presents a wonderful opportunity for us to curate interesting social media Campaigns for Raksha Bandhan which make the festival even more endearing and exciting. At Clematis Advertising, we create the best social media posts for you by intertwining the latest trends on social media